---
---
Affordable, elegant retirement in a picturesque setting!

Overlooking the ocean on Lothrop Street in Beverly, MA, the Girdler House is a wonderful retirement option for women who want comfort and support at an affordable price. Each resident has a private bedroom in a historic home set in one of Beverly's most desirable residential neighborhoods.

All meals are home-cooked and served in a lovely dining room. A dedicated staff provide all the housekeeping services and assistance with daily living. Social activities are tailored to the interests of each resident. Residents spend their days in several spacious living rooms and, in good weather, on the front porch or in the yard facing the ocean.

The city of Beverly is a pleasant community, vibrant with many cultural and natural resources and served by a world-class healthcare system. For more than 130 years, the Girdler House has provided access to all these community benefits to women, while providing them a place to live their older years in ease and comfort and enjoying as much independence as possible.

The Victorian architecture of the Girdler House echoes the graceful style of living in earlier eras, while offering all the expectations, and meeting the needs, of older women living in the 21st Century. With the proximity to the ocean, Girdler House residents enjoy waking to glorious morning sunrises, relaxing evenings and ending the day with quiet sunsets in the company of other women.

We welcome inquiries from potential residents and their family members at all times. To you and your loved ones, take a moment and come for a visit. Enjoy our lovely setting and see just what we have to offer!

---
Video courtesy of James Maroney

---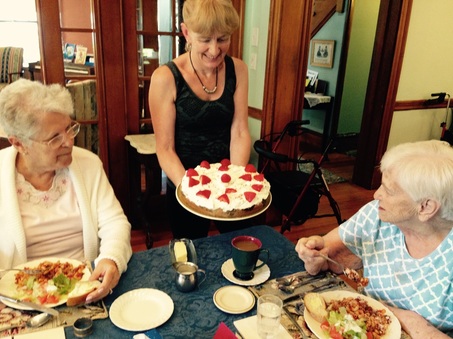 You'll feel like you're right at home!