---
---
Affordable, elegant retirement in a picturesque setting!

Overlooking the ocean on Lothrop Street in Beverly, MA, the Girdler House is a wonderful retirement option for women who want comfort and support at an affordable price. Each resident has a private bedroom in a historic home set in one of Beverly's most desirable residential neighborhoods.

All meals are home-cooked and served in a lovely dining room. A dedicated staff provide all the housekeeping services and assistance with daily living. Social activities are tailored to the interests of each resident. Residents spend their days in several spacious living rooms and, in good weather, on the front porch or in the yard facing the ocean.

The city of Beverly is a pleasant community, vibrant with many cultural and natural resources and served by a world-class healthcare system. For more than 130 years, the Girdler House has provided access to all these community benefits to women, while providing them a place to live their older years in ease and comfort and enjoying as much independence as possible.

The Victorian architecture of the Girdler House echoes the graceful style of living in earlier eras, while offering all the expectations, and meeting the needs, of older women living in the 21st Century. With the proximity to the ocean, Girdler House residents enjoy waking to glorious morning sunrises, relaxing evenings and ending the day with quiet sunsets in the company of other women.

We welcome inquiries from potential residents and their family members at all times. To you and your loved ones, take a moment and come for a visit. Enjoy our lovely setting and see just what we have to offer!

---
Such a warm, wonderful homey atmosphere for your older relatives. Caring staff , great home made meals, lovely rooms and a view of the Atlantic. Plus the prices are reasonable which is great benefit. The Girdler House is a gem for sure! ~Cindy K.

My friend introduced me to the Girdler House when his mom was a resident there many years ago. When my mom could no longer live independently we compared many places to Girdler House and quickly concluded that not only is it the best value we found, it was the best choice for Mom. The atmosphere is home like in a beautiful neighborhood across from Beverly Harbor. My mom made an immediate connection since it resembled where she grew up in Italy. The meals are all home cooked. My mom was a fabulous cook and picky when it comes to food. She always speaks highly of the food they serve. More than anything, the staff at Girdler House is outstanding. They are all wonderful women who care for my mom. They treat her like family with dignity and respect. My mom has lived at Girdler House for 4 years and has thrived in this caring, loving environment. This place has been a blessing for our family. ~Paul D.

The Girdler House is a truly exceptional home for older ladies. Excellent meals and services in a charming atmosphere that's quite different from a typical institutional retirement / assisted living facility. Warm companionship and best of all, a wonderful and caring staff that becomes like a second family to the residents. A real find. ~Ed J.
There is no better place for an aging loved one who can no longer live on their own than the Girler House. The home is beautiful and the setting magnificent - right across from the ocean. It is such a pleasure to sit on the porch, looking at the ocean and enjoying the delightful surroundings. One of the best things about the Girdler House is the staff. You could not find more loving, caring and attentive staff anywhere! My relative lived there recently and our family could not have been more pleased. The House sponsors numerous events for the residents that keep them engaged and entertained. I highly recommend the Girdler House. ~Marylin R.
---
Video courtesy of James Maroney

---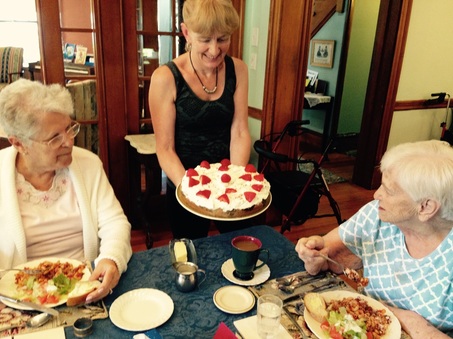 You'll feel like you're right at home!